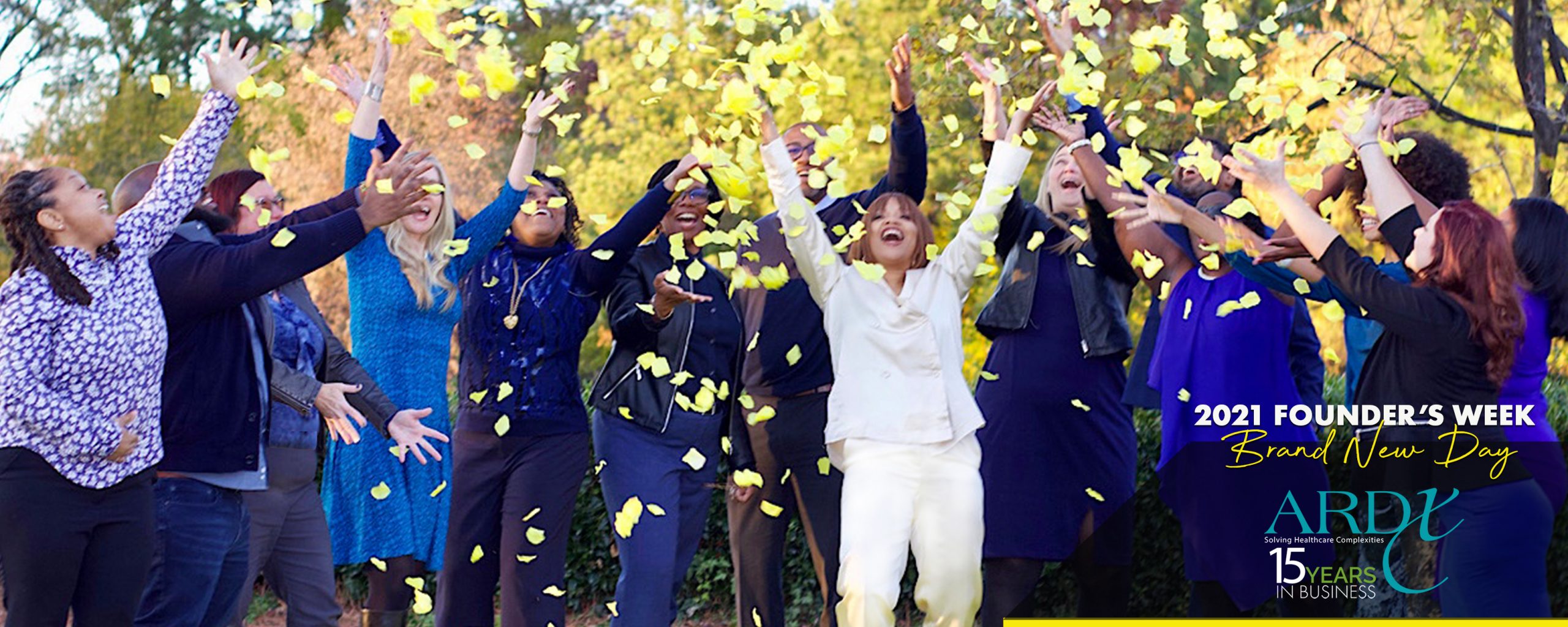 Company Celebrates Milestone As Leading Minority Women-Owned Healthcare and IT Consulting Firm in Virginia
NEWS – Norfolk, VA, November 29, 2021 – ARDX Celebrates 15 Years In Business
ARDX®, an award-winning government healthcare management and technology consulting firm celebrates 15 years in business this year as company CEO proclaims a "Brand New Day" on the horizon.
Founded in 2006 by Dr. Angela D. Reddix, ARDX® has grown to become a leading healthcare consulting firm in Virginia providing services in health and policy regulation, big data analytics, technology solutions, cybersecurity risk management, and technology solutions, having created jobs for nearly 400 Associates through the years and across the nation.
As Dr. Angela's mission is continuously manifested, the ARDX® Founder's Day celebration is inspired by the iconic movie soundtrack song, "Brand New Day" in the movie "The Wiz," which has become the symbol of this week's theme of the days ahead for ARDX® expressing an incredible season of positive change.
"ARDX® proudly celebrates 15 years in business!" stated CEO, Dr. Angela Reddix. "Reflecting over the years, ARDX® has had the opportunity to grow into a multi-million dollar brand that has helped shape communities. We want to thank all our stakeholders for being part of the road less traveled by partnering with a woman-owned, minority-owned small business. At ARDX®, we appreciate our clients and our mission has been to always provide quality service along with a movement of hope, prosperity, and a commitment to giving back!" Reddix continued.
After 15 years since inception, ARDX®'s core mission remains to be an organization that is committed to improving the lives of the most vulnerable populations by enhancing healthcare practices and exercising social responsibility.
Throughout the years, the company has celebrated many noteworthy successes including:
2021 Founder named to EBONY Power 100 List
2020 Pepsi Historically Better Award 2020 STEM Innovator Award
2020 Community Builders Award
2019 Excellence in Service Award, Virginia Beach & Hampton Roads 2018 Virginia Center for Inclusive Communities Humanitarian Award
2016 Chamber of Commerce Dream Big Blue Ribbon Award
2016 Hampton Roads Roaring 20 Fastest Growing Companies
2015 Businesses' Entrepreneurial Excellence Award
2015 Life Enrichment Center (LEC) Partner of The Year
2014 Still Hope Foundation's Entrepreneurial Excellence Award
2012 Dr. Donald W. Lewis Community Leader in Child Health Advocacy
2011 Urban League's A. Phillip Randolph Award
2011 Voted Business' Best Places to Work
2010 Norfolk's Business of The Year
This celebration of achievement would be incomplete without giving. The ARDX® 15th year anniversary achieves this though a week of internal celebrations and external activities like the ARDX® Day of Giving where the ARDX® team will donate 1,500 items to the YWCA of South Hampton Roads, as well as, volunteer time from the ARDX® Associates to the YWCA.
Dr. Angela D. Reddix stated, "Just as fearlessly as we walked into the last decade and a half, we will forge ahead into this brand new day and I am excited to share all the new endeavors on the horizon!"
For more information about ARDX®, visit: www.ardx.net.
–
#ARDX #NorfolkVirginia #NorfolkBusiness #MinorityOwnedBusiness #WomanOwnedBusiness #YWCAUSA #HealthcarePolicyExperts #EBONYPOWER100
Media Contact
ARDX® Corporate Communications
757.410.7704
CorporateCommunications@ardx.net